Local. Family Owned. Trusted.
Paver Sealing Deerfield Beach, FL
Top-Rated
Paver Sealing in Deerfield Beach
Pavers are a popular choice for homeowners who want to add style and beauty to their outdoor living spaces. But, like any other material exposed to the elements, pavers can start to show signs of wear and tear over time. Fortunately, paver sealing is an easy way to protect your pavers and keep them looking beautiful for years to come. 
Paver sealing provides several benefits that will help keep your pavers looking beautiful and new. First and foremost, it helps protect your pavers from the elements, such as sun exposure, rain, snow, dirt, debris, and more. This can help significantly prolong your pavers' life by preventing fading or cracking due to extreme weather conditions. It also helps prevent staining on your pavers caused by oil, grease, or other substances that may be present in your outdoor environment. Paver sealing also makes it easier to clean your pavers since dirt and debris will not be able to penetrate into the surface as easily as they would without protection from a quality paver sealer. This means less time spent scrubbing away dirt stains or trying to remove weeds growing between the cracks in your pavers! Lastly, paver sealing enhances the natural color of your pavers while giving them a low-gloss finish that looks great in any outdoor space. 
Searching for
Deerfield Beach Paver Sealing Near Me?
When it comes time for applying a sealant on your pavers, look no further than Broward Paver Services for top-quality paver sealers. Our team is experienced in applying high-grade sealants on any paving stone, so you can trust that we will get the job done right the first time! We use only professional-grade products, so you know you're getting the best possible results with every application. We even provide helpful tips on maintaining your newly sealed pavers so they last longer. Whether you're looking for paver sealing in Deerfield Beach, FL, paver sealing companies in Deerfield Beach, FL, or Deerfield Beach paver sealing near me, we're the ones to call for optimal quality and best-in-class service. 
Deerfield Beach enjoys a tropical climate with hot summers and warm winters. Average temperatures range from the mid-70s in the winter months to the high 80s in the summer months. The city also averages over 250 sunny days per year and receives an average of just over 59 inches of rain annually. This makes it a great place to spend time outdoors year-round.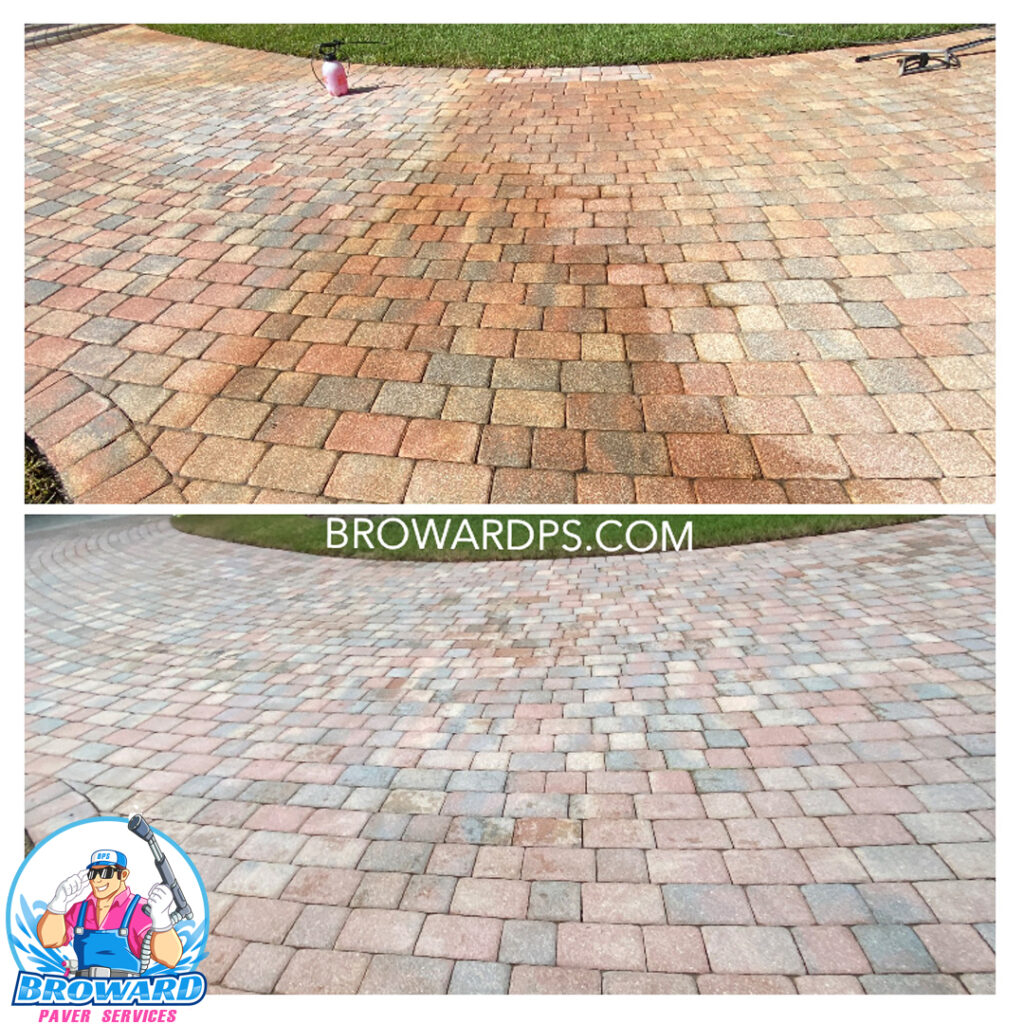 Local. Family Owned. Trusted.
Expert Paver Cleaning Deerfield Beach, FL Residents Trust
Call Today for
Paver Sealing and Cleaning in Deerfield Beach, FL!
If you live in Deerfield Beach and are searching for paver sealing and cleaning in Deerfield Beach, FL, paver cleaning companies in Deerfield Beach, FL, or paver cleaning Deerfield Beach, FL, get in touch with Broward Paver Services. We strive to bring you quality paver sealing and cleaning that will last you for months or years to come. Our mission is to be there for your paver sealing needs and bring our time-tested expertise to solve your most challenging problems. We look forward to restoring your beautiful paver to make a welcoming environment in your home!