Local. Family Owned. Trusted.
Top-Rated
Weston Paver Sealing & Cleaning
Broward Paver Services offers the best paver sealing Weston FL has to offer! We are one of the highest-rated and experienced paver sealing companies in Weston FL. We also offer paver sealing, cleaning, restoration, and installation in Weston as well.
If you've ever asked where the best paver sealing is near me, then you've probably heard of Broward Pave Services. We offer the best sealing services in the region.
Paver sealants act as a low maintenance tool to keep paver patios, driveways, walkways, pool decks, and more looking brand new. Sealants also protect porous paver surfaces from absorbing harmful chemicals and grim as well as mold and mildew. Customized sealing solutions will leave your pavers looking brand new and will also extend their life expectancy.
Searching for
Weston Paver Installation Near Me?
Broward Paver Services also offers the best paver cleaning Weston FL has to offer. A regular cleaning schedule for your pavers and hard surfaces of your home will not only extend the life of these surfaces such as pool decks and retaining walls but will also keep your family/visitors safe from harm by preventing build-up of grime.
Our team is one of the most experienced paver cleaning companies in the area and will prepare, clean, and if the needed seal, your pavers to offer the maximum protection possible. We utilize safe and tested cleaning products that can cut through the toughest dirt and grime.
Broward Paver Services suggests sealing pavers every 4 years as well as creating a regular paver and hard surface cleaning schedule with our team. When you combine these services, you will have the most beautiful and well-maintained home for years to come!
Broward Paver Services also offers the best paver repairs in Weston FL. If you've been asked where Weston paver repairs are near me, then look no further than Broward Paver Services! Repair and restoration services will extend the life and beauty of your pavers and natural stone hardscapes. Whether it's a minor issue like stains or uneven pavers or a major crack, no restoration project is too big or too small for our experienced technicians.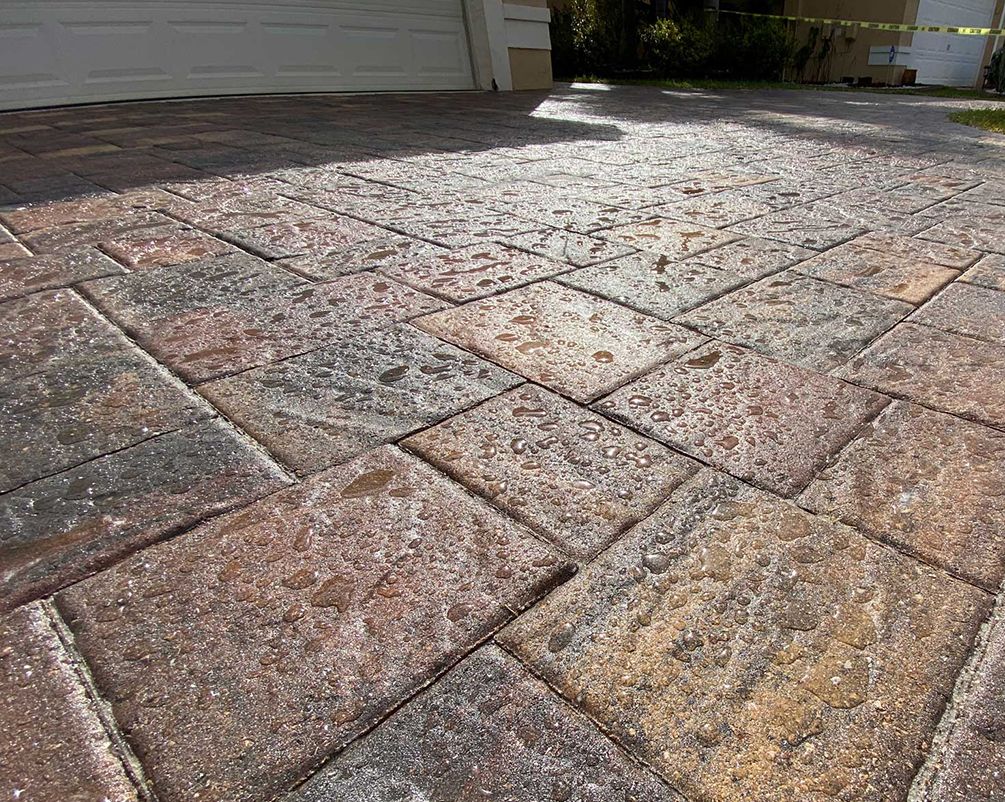 Local. Family Owned. Trusted.
We Offer Paver Sealing and Cleaning throughout Weston
Call Today for
Paver Installation and Paver Repairs
We also offer paver installation in Weston FL. We work with a wide range of residential and commercial clients to tackle their customized projects with only the highest quality pavers and natural stones. We offer several options for pavers and natural stone installations from pool decks to driveways to walkways and use pavers made of concrete, natural stone, permeable pavers, and more.
Broward Paver Services is proud to serve the Weston community. Weston is built along the edge of the beautiful Florida Everglades and is home to art festivals, concerts, and celebrity golf tournaments.
Whether you are looking for paver sealing and cleaning in Weston or wondering where Weston paver installation is near me, Broward Paver Services is the company to call. Our family-owned and operated business prides itself in offering the most thorough, efficient, and affordable cleaning, sealing, repairing, and installation services in our area. Call us today for a free in-person consultation and price quote.