Local. Family Owned. Trusted.
Paver Sealing Hollywood, FL
Top-Rated
Paver Sealing in Hollywood
Are you a Hollywood, FL homeowner looking for paver sealing services? Look no further than our team of professionals at Broward Paver Services. We are the top rated paver sealing professionals in the Hollywood, FL area. We are locally owned, and operated paver sealing company with a focus on providing top of the line customer service. If you're looking for a trusted paver sealing operator, we're the ones for the job! All of our technicians are licensed, insured, and bonded for your peace of mind. Give us a call today to schedule your free paver sealing consultation. We can't wait to work with you!
We also offer top rated Paver Repairs and Paver Installation.
Searching for
Hollywood Paver Sealing Near Me?
If you are getting pavers installed this summer then you need to consider paver sealing. Other paver sealing companies in Hollywood, FL will use low quality paver sealing. We only use top of the line products in all of our paver sealing projects in Hollywood, FL. You don't have to search for "Hollywood paver sealing near me" any longer because you've found the best in the business. Our paver sealing technicians are standing by to answer any questions you have about the process. You may be wondering why paver sealing is so important. Paver sealing is a sealant from the elements. It will keep your pavers looking as new as the day you installed them. Not to mention, paver sealing makes it easy to clean pavers!
We are a full service paver sealing and cleaning company in Hollywood, FL. We'll bring everything necessary to get the job done. First, we'll assess the area you want sealed to make sure there is nothing that would change the quality or prevent the sealant from being successful. Then, we'll talk to you about our plan and make sure you are on board with the next steps in the paver sealing and cleaning process. Once we get the sign off from you, we'll get started. The first thing we do is clean your pavers to make sure there is no dirt or grime hanging around. Once we've cleaned the pavers using extreme penetrating detergent, we'll start applying the sealant. We're confident that you will absolutely love your paver sealing job!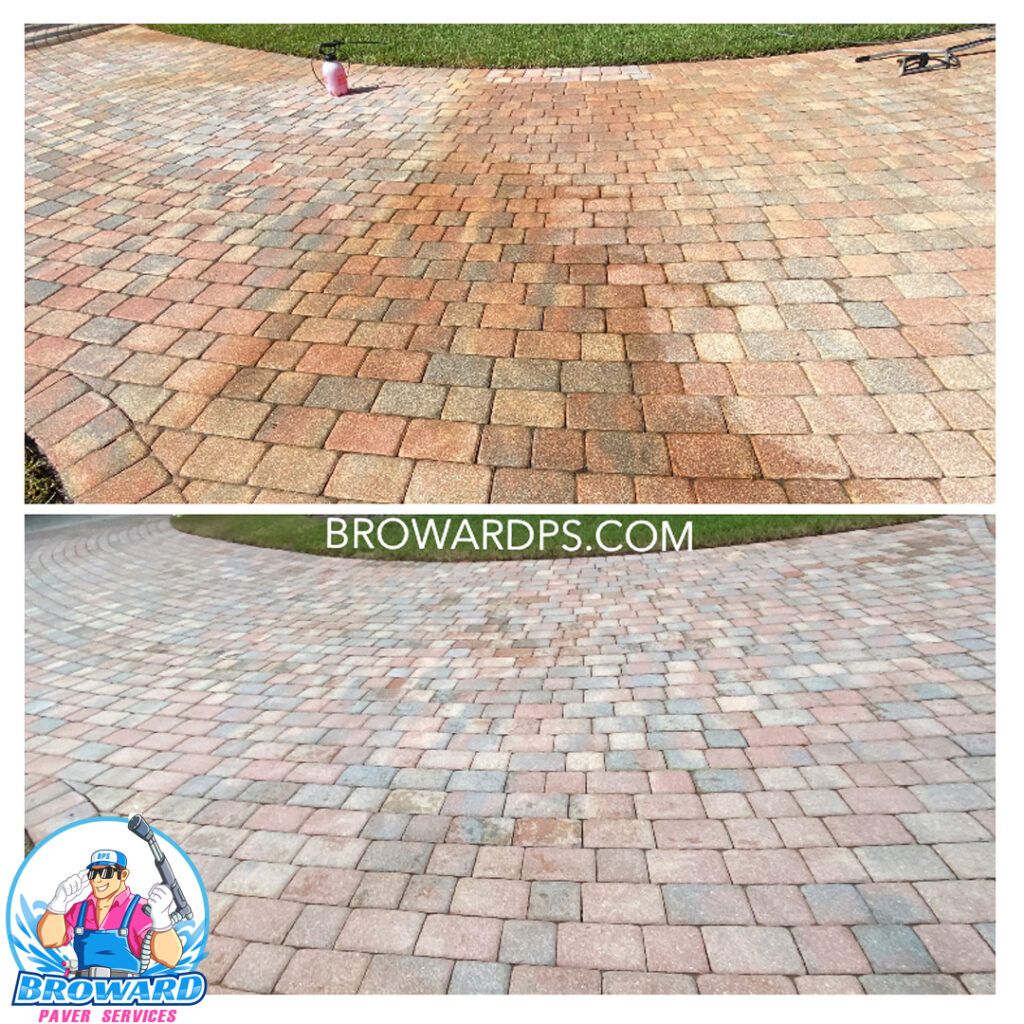 Local. Family Owned. Trusted.
Expert Paver Cleaning Hollywood FL Residents Trust
Call Today for
Paver Sealing and Cleaning in Hollywood, FL!
We are servicing the Hollywood, FL and surrounding areas. We love servicing Hollywood, FL because the customers are great and the area is top notch! Hollywood is a city on Florida's east coast, between Fort Lauderdale and Miami. Some of our favorite things to do in the area include visiting Seminole Hard Rock Hotel & Casino, Oleta River State Park, Flamingo Gardens, and so much more. We love servicing the Hollywood, FL area!
Don't settle for other paver cleaning companies in Hollywood, FL when you could work with the absolute best. We are top rated because we truly care about our customer's experience. In fact, we offer 100 percent customer satisfaction guarantee for all of our paver sealing and cleaning services. That means if you are unhappy with your paver sealing services, we'll make it right. Give us a call today to schedule your free paver cleaning and paver sealing consultation.